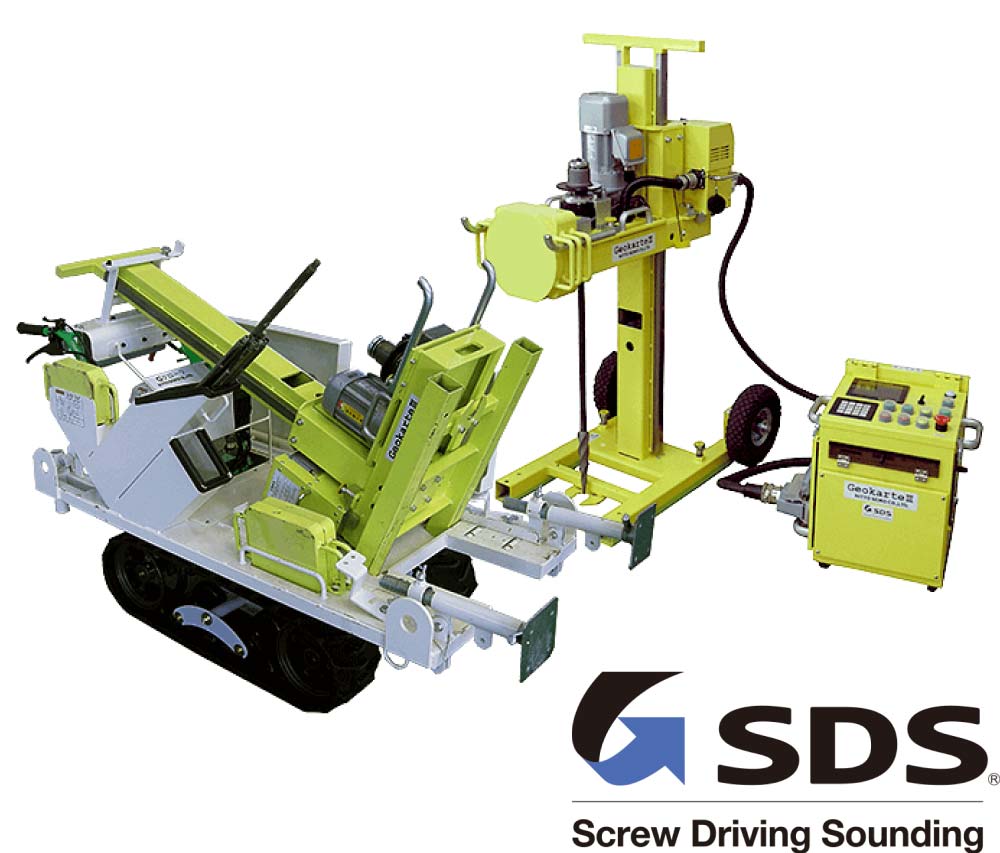 Screw Driving Sounding (SDS) Test
The SDS test is the new ground investigation method.
The SDS (Screw Driving Sounding) test is a soil classification test that can distinguish between sand and other types of soil (including cohesive soil, organic soil and volcanic cohesive soil) with a high probability.
Name of Company
Japan Home Shield Corporation
Established
1st March 1990
Head Office Location
130-0026 Tokyo-to Sumida-ku Ryogoku 2-10-14 Ryogoku City Core 17F
Capital
6 Billon Yen (Including Capital Reserve)
Registration

First-class Registered Architectural Firm:
Registered with the Tokyo Metropolitan Governor No.64851
Registered with the Tokyo Metropolitan Governor No.64852
Ministry of Land, Infrastructure, Transport and Tourism:
Registered Land Surveying Company No.(1) 36745

Main Banking Institutes
Mitsui Sumitomo Bank Tokyo-Chuo Branch
Mitsubishi Tokyo UFJ Bank Honjo Branch
Underwriting Insurance Company
Major Casualty Insurance Company
Number of Employees
373 Employees (As of the end of November 2022)
Personnel with Qualifications
1 Structural-design First-class Architect
2 Doctors of Engineering
3 Professional Engineers (Construction Sector)
1 Professional Engineer (Applied Science)
10 Associate Professional Engineers
14 First-class Architects
23 Second-class Architects
7 First-class Construction Management Engineers
5 Second-class Construction Management Engineers
24 First-class Civil Engineering Management Engineers
6 Second-class Civil Engineering Management Engineers
50 Geotechnical Evaluation Specialists
9 Associate Geotechnical Evaluation Specialists
6 Geological Survey Engineers
6 Registered Surveyors
14 Associate Registered Surveyors
140 Chiefs of Residential Land Survey
65 Ground Reinforcement Design Chief Engineers
67 Ground Reinforcement Construction Management Chief Engineers
13 Ground Reinforcement Construction Management Engineers
Description of Business
Geotechnical Survey, Building Inspection, Digital Solutions and Related Business Enterprises
Group Company
First Inspection Service Corporation.
JHS Engineering Corporation.
Living SAST Insurance Co.,Ltd.
Allied Research Co.,Ltd.
Technical Advisor
Fujii Mamoru (Professor Emeritus at Tokai University)
Soil Design Co., Ltd.
CONTACT
Please feel free to contact us for any questions or business related inquiries.